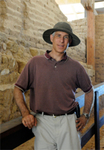 Excavating the Judean City of Lachish, 2015; Michael G. Hasel, PhD; October 12, 2015
Description
The biblical city of Lachish is mentioned 24 times in the Old Testament. Some of the most notable references are: the Israelite conquest of Lachish (Joshua 10:3-35; 12:11; 15:39), the Assyrian siege and destruction of the city by the Assyrian king Sennacherib in 701 B.C. (2 Kings 19:8; 2 Chronicles 32:9), and the destruction of both Lachish and Jerusalem by the Nebuchadnezzar II, king of Babylon, in 586 B.C. (Jeremiah 34:7). Lachish, during the Iron Age, stood as the most important city in Judah after Jerusalem. In this presentation, Hasel recaps the 2015 season at Tel Lachish.
Michael Hasel (PhD 1996, University of Arizona) is director of the Institute of Archaeology and curator of the Lynn H. Wood Archaeological Museum at Southern Adventist University. At present, he is co-director for The Fourth Expedition to Lachish.
This paper has been withdrawn.