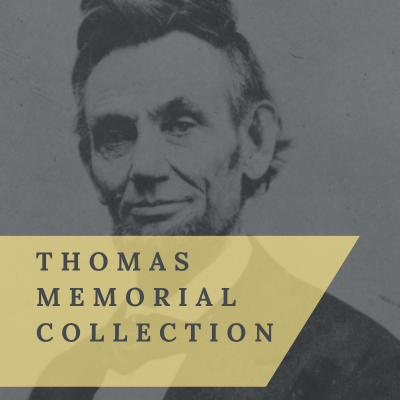 The Thomas Memorial Collection contains materials related to Abraham Lincoln and the Civil War. This digital exhibit is an ongoing project. As such, content will be added throughout the year.
ABOUT
Included in this collection are more than 2,700 volumes as well as authentic photos concerning Abraham Lincoln and the Civil War. A $10 check signed by Lincoln is also part of the collection and has been included in The Papers of Abraham Lincoln project. Other interesting materials include a piece of oak from the floor of Lincoln's Springfield law office, a gavel made from a tree planted by Lincoln, and a section of his original marble sarcophagus. Several oil portraits of Lincoln also make up this collection.
A BRIEF HISTORY
Dr. Vernon L. Thomas, along with Dr. Russell C. Slater and John W. Fling, Jr., contributed books, photos, periodicals, and other memorabilia concerning Abraham Lincoln and the Civil War. The collection was opened to the public on July 4, 1976.
LEARN MORE
Visit the Thomas Memorial Collection page on the library's website to view the finding aid and request to view items in person.