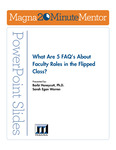 Files
Description
Our topic today is, what are the five frequently asked questions about faculty roles in the flipped classroom? This is a helpful topic for those of you who are faculty, as you think about your changing role in the flipped environment. It's also helpful for those of you who are faculty developers, as you think about how to develop programs and professional development opportunities for faculty on your campus.
Barbi Honeycutt, Ph.D., currently serves as the Director of Graduate Teaching Programs at North Carolina State University and as Adjunct Assistant Professor in the Department of Leadership, Policy, Adult and Higher Education the College of Education at NC State. She created Flip It Consulting in 2011. She and her colleagues design and deliver programs to teach you how to flip your workshops, seminars, training sessions, classes, and meetings.
Sarah Egan Warren is a Flip It Associate and the Education & Training Director of Reify Media, LLC, a Raleigh-based online media company. Sarah also serves as the Assistant Director for the Professional Writing Program at NC State University. Her dedication to student-centered learning inspires her to keep up to date on instructional technology and trends. A dynamic and versatile teacher, speaker, and advisor, Sarah combines her experiences inside and outside the classroom to provide clear, concise, and comprehensive workshops, presentations, lectures, and learning resources.
Recommended Citation
Honeycutt, Barbi PhD and Warren, Sarah Egen, "What Are 5 FAQs About Faculty Roles in the Flipped Classroom" (2014). Online Seminars. 30.
https://knowledge.e.southern.edu/onlineseminars/30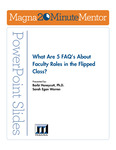 COinS